so the roadtrip was amazing. started out in chicago (i flew from philly with my mom and stepdad) and stayed in wheaton IL for 4 days for a family reunion. the reunion was great, but i don't think i'll write about it right now because that's a whole other story...
my ride picked me up in wheaton on July 5, and we drove across the rest of Illinois, crossed the Mississippi River, and drove across all of Iowa. there's not much to say about iowa. we stopped in a supermarket and couldn't even find any corn, even though that's all we had seen out the car window all day. we camped at the western border of Illinois, along a creek right near the Missouri River. it was really beautiful. i had been deprived of nature for so long; after i helped pitch the tent i ran off into the woods, took a lot of photos, walked around, saw about 20 deer. we cooked vegan chili over a propane stove and sat around the fire pit for the rest of the night.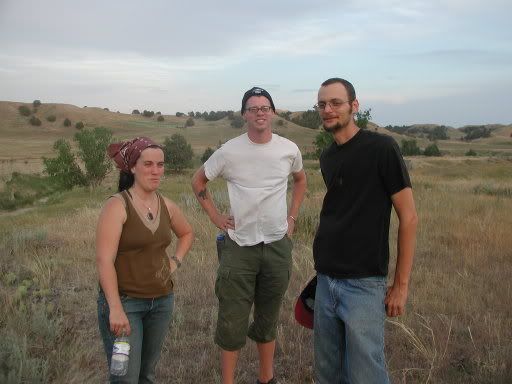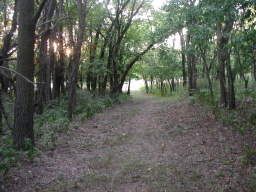 the next day we drove north up the western coast of iowa and into south dakota. drove almost all the way across south dakota, making some exciting stops at the world's only Corn Palace
and the country's largest drugstore in Wall, South Dakota. The corn palace is basically this weird building that was built in 1884 or something like that, and the outside and inside are completely decorated with corn. they make all kinds of designs and murals with different colored corn. weird.
Wall Drug (the drugstore) sucked. they have all kinds of tacky stuff that makes fun of native americans, and they import their workers from taiwan.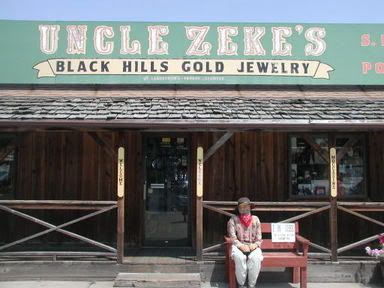 ok...then we made it to the Badlands. absolutely beautiful. well, beautiful in a weird way; there's a reason why it's called the badlands. some parts of it are like the grand canyon, but a lot smaller, and there are large, flat, desert-like areas here and there. it's very desolate, and i loved it. i think i read that the badlands cover about 240,000 acres. it was pretty incredible. i don't think i've ever been so far away from other human beings before. we found a campsite and pitched the tent, but it was so windy that our large tent wouldn't stay put. that ended up being a good thing, because we just slept outside in our sleeping bags under the clearest sky i've ever seen, illuminated by the moon and the millions of stars that we could see. we did some hiking in the morning, and we saw a lot of bison, antelope, cows, horses, and prairie dogs. i guess i'm naive, but i seriously didn't realize that bison still existed in the US. i thought they were a thing of the past. we actually had to stop our car at one point because a buffalo was just standing right at the side of the road.
we were planning to spend the next whole day in the badlands, but we decided to just continue on. we drove through the pine ridge reservation, which is technically in the badlands, and went to Wounded Knee. at Wounded Knee there is now a visitor's center/small museum and a graveyard for those killed in the massacre. i guess i wasn't quite prepared for all that emotionally. i was kind of just thinking 'oh we'll just stop by Wounded Knee and see what's there and then continue on' but as i was walking around the graveyard, i cried for the first time in 7 months. and that's a big deal for me; i used to cry all the time, but this year i haven't at all really. just seeing all those Lakota Sioux names knowing that they died defending their lives and land from white people. thinking about the fact that no gravestone should ever say Baby Boy Black Bear, and then looking at the dates of his birth and death. only 6 days between..
walked back to the car in silence, drove south to Nebraska, going through the towns of Pine Ridge and Oglala on the way. got to Wyoming and decided to camp in the Medicine Bow State Forest, just north of Laramie. it was really in the middle of nowhere. after getting of the state road, we had to drive several more miles before driving another maybe 45 miles on a small dirt road. at one point we stopped abruptly because there was a huge rattlesnake in the road. it as funny, i started to freak out a little bit because the rattlesnake lifted its head and started moving toward us, so i kind of screamed at everyone to roll up their windows. also had to stop the car for rabbits, cows, and deer. it was cool to see all these animals totally in the wild; some of the animals i saw on the roadtrip were animals that i had only seen on the other side of fences or in cages.
later as we got further into the forest, i opened my window and noticed an extremely good, cinnamon-like scent from the pine trees. it was probably the freshest air i have ever breathed. for dinner we made stuffed peppers and potatoes by wrapping them in foil and throwing them in the fire pit, which ended up being really good.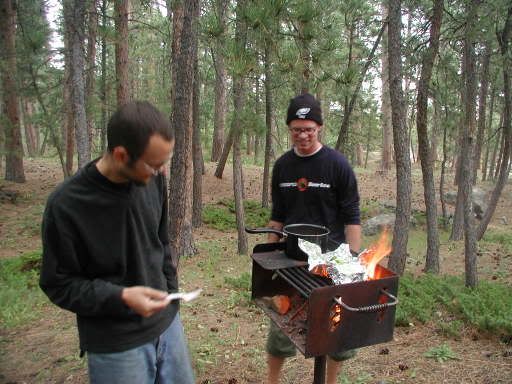 the next day was the drive all the way across the southern part of wyoming and into utah. most of wyoming, as i expected was extremely desolate. there are so few people that when you do happen to pass another car, it's rude NOT to wave at them. each time we entered a new town, there would be a sign saying the name of the town, the elevation, and the population. some towns had populations of 1, some had as many residents as 18. some signs just had the name and elevation; i wonder why they even bother making it a town. wyoming was pretty beautiful though; it was much more mountainous than i had expected.
(and very windy)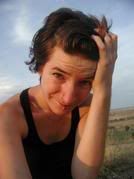 utah was amazing. the half hour drive approaching salt lake city may have been the most beautiful part of the trip. it was so green and majestic and beautiful, i'm not surprised that so many rich celebrities vacation there. we stayed with a very sweet couple in SLC that my friends knew, and we hung out in the backyard with them until around midnight, then i took a very much needed shower and went to sleep.
there's not much to say about nevada. it's a bunch of nothing, strip clubs, and casinos. you can even gamble in most of the rest stops along the highway. i was tempted to gamble for gas money, but i probably would have lost. we stopped at a mexican restaurant in Elko and watched the beginning of the Italy/France final world cup game. it's weird, all of the towns that we stopped in in South Dakota and Nevada we so western, i didn't even know towns like that still existed. i guess i still thought those towns were stereotypes from the past, and i guess the roadtrip has made me understand America a bit better.
it took forever to get across Nevada. we thought it would never end. the salt flats were kind of cool, but got old after a few miles. also, route 80 doesn't cut straight across; the Great Basin is in the way and you have to drive around it to get to California. we kept falling asleep and waking up to see that we had only moved another milimeter on the map.
sometime in the early evening we finally got to California. after 5 days in the car, we thought we would never get there, and it felt really good, although we still had to drive across the Sierra Nevada. the Sierra Nevada was a really nice drive, although i don't think our little Saturn enjoyed it very much.
now i'm in oakland, living in a warehouse with about 30 cats and a bunch of interesting people. i really like the bay area, although public transportation is really expensive. i started applying for jobs right away in berkeley and san francisco, and i now have a part time job selling tickets for the san francisco symphony.
so i guess i'm settled in already. it doesn't take me long to call a new place my home.
for more photos look here:
http://www.flickr.com/photos/silenzia/sets/72157594227000970/
comments: Leave a comment